Filming in Orkney – Two and a Half Minutes of Fame!
Hello again!
Back in July The Little Orkney Dye Shed received a rather surprising email from the TV channel CBeebies. This was shortly followed up by a phone call from the researcher for the childrens programme 'Down on the Farm'.
The film crew were coming to Orkney and and wanted to record how we did our dyeing.  It didn't take Rob long to say yes, with the caveat that he'd be on the screen. I would just have to  provide the technical input…mmm, I didn't see that one coming! They also wanted us to use local North Ronaldsay wool and for children to be involved. Alas our sons at 22 and 15, were just a wee bit too old! So the first thing we had to do was  beg, borrow (but certainly not steal) two 6 year olds-Freya and Jamie,twins from Stenness, who came up trumps.
There then followed weeks of form filling, health and safety discussions before the crew finally arrived here on the 7th September.
A Few Behind the Scene Shots.
Thanks to my mum and Rachel (Jamie and Freya's mum) for providing the following photos. I was too busy being a nervous wreck to  have thought of taking any myself!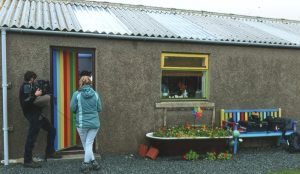 The weather was mixed which meant artificial lighting was needed in the shed and by the final shot it was chucking it down. Filming took the best part of 5 hours. It was a really long day for the kids but Jamie and Freya were great. Big thanks go to them plus their parents, especially their mum, for putting up with it all.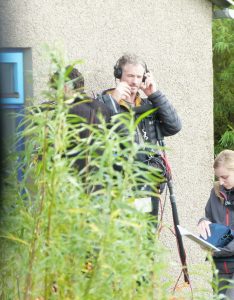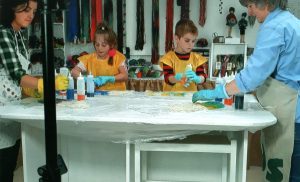 Lots of concentrating as we dye our wool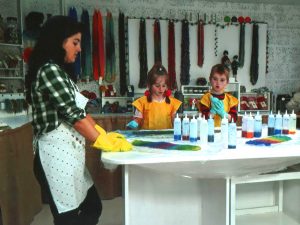 Storm, Freya  and Jamie looking pleased with their efforts!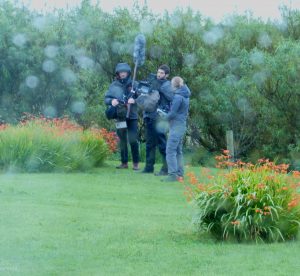 The joys of filming in all weathers!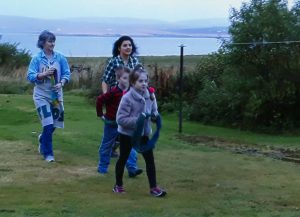 By some form of production magic, you'd never have known it was raining when the wool was being hung out to dry!
 Finally..
We were all sworn to secrecy as we waited with nervous expectation until the programme was aired-Friday 24th November.
The feature is short and lasts for just over  two minutes. Disappointingly, Orkney wasn't mentioned but all in all an interesting experience, but never again I say. It also comes as no surprise that Rob left it all to me! Tho' I have to say, he did make a cuppa for everybody and entertained the kids between shots.
If you'd like to take a look it's available on the iPlayer for the next month – CBeebies,channel 202. Other episodes in this latest series show a bit about North Ronaldsay sheep and a visit to an Orkney fish farm.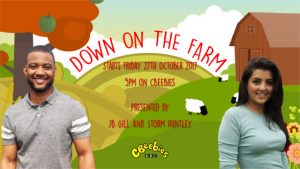 Until next time!
Pam