Meet The Little Orkney Dye Shed team
Hello and welcome to the start of a New Year, blog and new look website of The Little Orkney Dye Shed. Or, as the chaps in my household simply call it, T.LO.D.S for short!
Before meeting the team here's a small glimpse into where all the dyeing is done.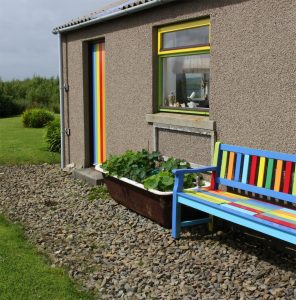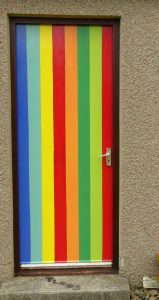 At the bottom of our garden is my part of a converted shed, behind the stripy door. This is where I'm lucky enough to have the time and space to splosh and splatter colour over lots of lovely hanks and fluffy fibres.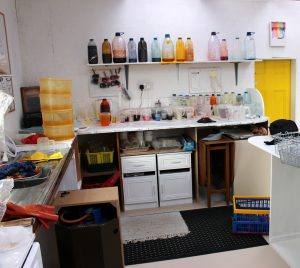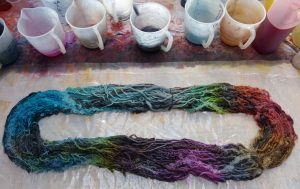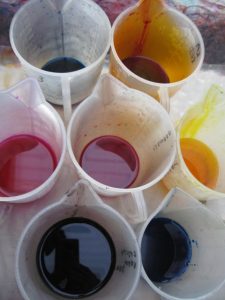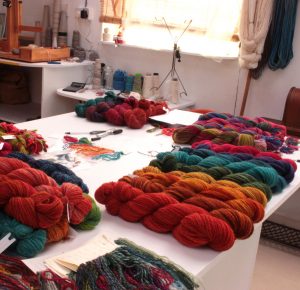 For the more daunting and least interesting tasks of running a business I rely on my trusty T.L.O.D.S team of husband and family. So here's a lighthearted look at the general roles we all play to help keep everything running smoothly, plus everyones' favourite colour!
Rob – Mr TLODS
All round business manager with organisational super powers
Handyman
Occasional woolwinder
Fave colour: orange
Master TLODS, the Elder
My go to chap for website development
Magical IT abilities
Retired woolwinder
Fave colour: orange
Master TLODS, the Younger
Video operative
Social Media consultant
Apprentice woolwinder in waiting tho' he doesn't know it yet.
Fave colour:Red
Nana TLODS
Prototype tester
Voice of wisdom and font of knowledge on all things crafty
Never done woolwinding and never will do!
Fave colour: Turquoise
Last but not least there's me, easily spotted in standard uniform of rubber gloves and apron (the one shown below kindly made by my Mum)!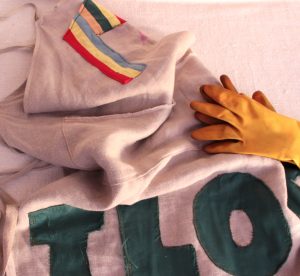 Pam – Mrs TLODS
Principal dyer
Photographer
Chief and currently the only woolwinder
Fave colour: Teal
By now you may have realised that winding wool is not one of my favourite jobs. So, to end, here's a very short clip of an essential piece of equipment, 'Wally' my motorised woolwinder, who in his non-human way is part of the team and helps keep me sane!
Until next time….
Pam