The Little Orkney Dye Shed Highlights 2017
Hello again!
Another year is well underway and January is almost at an end. Despite this, I want to look back at some of last years events involving The Little Orkney Dye Shed.
Spring
This is one of my favourite seasons. As we shake off winter, there is still time to head outdoors and enjoy a walk in the fresh air! A good time to gather new ideas for colours before the start of the busy season here in Orkney.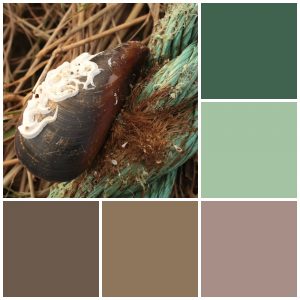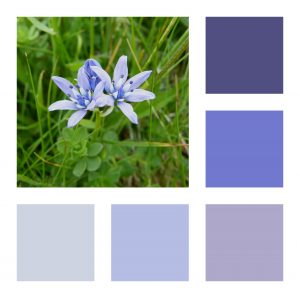 A huge step for us was the decision to open the Dye Shed to visitors over the Summer.
Out of this muddle a small shop finally emerged!
Mr TLODS decided it would be fun to organise a small family celebration to mark the occasion, prior to the opening on 1st April. Any excuse for cake, Orkney ice cream(of course) a cuppa and a little tipple – what's not to like!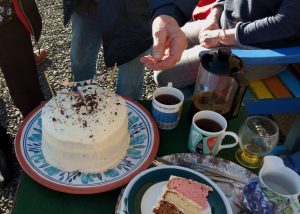 A yummy cake made by a very kind neice!
To our amazement we started to see a small number of visitors from near and far, including a bus party from Norway. Tour organiser Karin Flatoy Svarstad brings a group of textile enthusiasts to Orkney each year. Karin is a felter and all round promoter of native sheep breeds and their fleeces. She organises trips to other places of interest and also set up the North Atlantic Sheep and Native Wool Conference.
(Further information can be found on www.sommerakademiet.com and www.northatlanticsheepandnativewoolconference.com)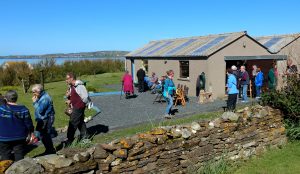 Luckily it was a beautiful morning so we didn't have to fit everyone into the shed at the same time!
Summer
It's all go but in August I attended a Ness of Brodgar open day held in the Stenness Community School hall. The Ness of Brodgar is a large archeological excavation site located in Stenness. These events are held twice a year and aim to give a glimpse into Neolithic life, and I was asked to do a display of naturally dyed yarns and chat about dyes that may have been used all that time ago.
(For more information take a look at www.nessofbrodgar.co.uk)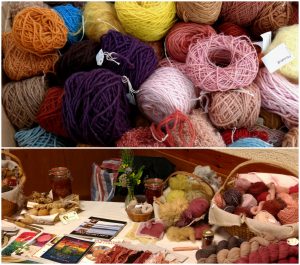 Autumn
Usually at this time of year it starts to get quieter. Before the shop shut at the end of September we had a CBeebies film crew here to film a short piece about dyeing wool. A memorable experience, more of which in the previous post!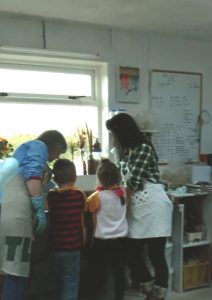 Winter
With daylight length diminishing and Christmas looming, Mr TLODS kindly volunteered to go out and about to a couple of local craft fairs. One of them was held at the Scapa Distillery, near Kirkwall. It was a busy event in a lovely setting but unfortunately the festive lights cast a green and ghoulish glow over everything!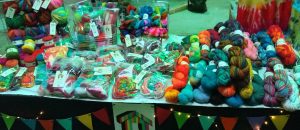 Not the best light for looking at all the colours!
Once more the Festive Season has come and gone, so it's now time to plan and hope for another interesting year.
Until next time…
Pam